Lisa
Lisa Lovatt-Smith protects and helps children in Ghana. She has published a book "Who knows tomorrow" that recounts her passage from a life in fashion to a life centred on the children of Ghana. At 22 years' old, Lisa became the youngest Editor in Chief of Vogue magazine and the youngest Director of Fashion at Condé Nast.
Several years later she decided to give up everything, sell her possessions and devote her life to her NGO OrphanAid Africa in Ghana. Lisa visits us in Normandy from time to time and I took the opportunity to ask her how she met Thierry Pic.
A beautiful encounter
Thierry created his first agency in Normandy in 1989 with the idea of opening the doors to historic buildings for business events. Many owners responded to his enquiries; some to host receptions and some to host meetings, while others, more reticent, were happy for their home, be it chateau or manor, to simply serve as the backdrop for fashion and advertising photo shoots.
With no internet in those times, Thierry put together a portfolio of photographs and set off for Paris to share them with editorial offices and photographic agents. One day, he entered the offices of Spanish Vogue and there he met you, I believe, Lisa.
In the era of Spanish Vogue
Lisa: "Yes, I saw this young man showing photos to my assistant so I went up to them to have a look for myself. This is magnificent, I said, where is it? I want it! Of course, it was Champ de Bataille." At that time, Spanish Vogue (based in rue Saint Dominique in Paris) had launched a new magazine focused on weddings called Novia Vogue. Demand was high and there was an exciting market to be developed around wedding dresses. The dresses were very Spanish – highly detailed and richly decorated – and I knew that they needed to be presented in an environment that evoked nobility, patina, the world of cinema!
The first models I booked were Cameron Diaz and Maïwenn. It seems funny now but at the time they were just beginning their careers. When I saw Thierry's portfolio of photographs, it was exactly what I had in mind.
The Normandy light is so beautiful!
We developed a great working relationship for several of my magazines – Thierry was known as 'Mister Chateaux' to the writers! He understood me; he knew exactly what wewanted, he did the groundwork, he anticipated our needs.
I have such happy memories: incredible locations and delightful people. There are so many stunning settings in Normandy, there should be more photos, more films – and the light is just so beautiful!"
The internet can't show the soul of a place
At the time there was no internet, but these days everyone can find what they want simply by punching in a search for locations for photo shoots, can't they?
"I don't agree with that at all. In those days, just as today, we didn't have the time to send staff out on location before the article was written. Our biggest need was someone who knew the terrain, who understood what we wanted and who also understood the need for soul from the photo-shoot. Sensitivity and a good eye are extremely important for our articles. We are really demanding and we are always in a rush.
On the internet you can see photos but that tells you nothing. Theseplaces are borrowed from history, the stones, the gardens, the light, the angles, different perspectives. All that, the soul, is not on the internet, you need someone who can interpret all that for us so we can brief the teams, the photographers, the models, the journalists."
THANK YOU LISA.
(Interview by Caroline Pic)
Who Knows Tomorrow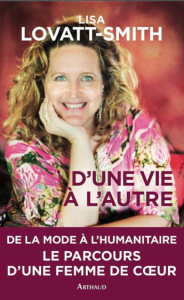 TODAY LISA LOVATT-SMITH, BASED IN PARIS, SPENDS HER TIME TRAVELLING TO GHANA AND THE DIFFERENT ORPHANAID AFRICA OFFICES. HER BOOK 'WHO KNOWS TOMORROW' WAS PUBLISHED IN NOVEMBER 2014 AND IS IN THE PROCESS OF BEING TRANSLATED ACROSS THE WORLD. A FILM ABOUT HER LIFE IS IN THE MAKING.
http//:www.oafrica.org